I have some great questions to ask from my previous
post
.
I thought I would start off with JG's questions because she is hosting an amazing giveaway. Have you ever heard of Scentsy? I love Scentsy! David is pretty hooked on all the scents too.
JG
is giving away a plug-in and 3 scentsy bars! That is HUGE!! Believe me, once you go Scentsy you will never go back. Be sure to tell her that I referred you to her blog!! Click on her button to go to her site!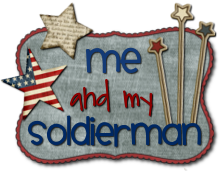 JG's question was:
Why did you choose the names for your children?
Great question, JG! Not sure how great of a story it is, but here you go.
Tyler's first name is not Tyler. She goes by her middle name. Her first name is my mother's name. It just did not work out as a middle name, no matter how hard we tried. (JG, if you are dying to know her first name, shoot me an email! :-) ).
I wish there was an amazing story on how we came up with Tyler, but there isn't. We did not find out the sex when I was pregnant with her. I am kind of old fashioned that way! David and I argued and argued over names. He had an excuse for every name that I threw out and the names he threw out were so plain with no personality! We were stationed at RAF Lakenheath in England at the time. Every week they put out a base magazine. I would always look at different people's names for inspiration. I came across the name Tyler and David said, "For a boy no, but I love it for a girl." I have always loved boy names for girls so it stuck. We finally had a name for our baby. And when I say finally, we were cutting it close to the due date!
Landon's middle name is after my father-in-law who passed away 10 months after Landon's birth. We are so thankful that we named Landon after his grandfather.
About 2 years before Landon was born, David was watching Real World New Orleans. There were two best friends on there who were in the military at the time. One of the guy's name was Landon. David fell in love with it immediately and told me that if we ever had a son that would be his name. I liked it, but shrugged him off. I already had names picked out. As you can see, my names once again did not make the cut! But I love the name Landon. At the time, we thought it wasn't that popular. David and Ashley are about as common of names as you are going to get. We wanted to give our children uncommon names, but normal names. You know, not Apple or Cheeseburger. Landon is gaining popularity, but he tends to be the only Landon in his classes so far!
And there you have it! No crazy stories, but special stories to us all the same!
I will be answering the rest of your questions this weekend. If you have a question that you are dying to know, leave it in the comments!!
P.S. Don't forget to check out JG's Fantastic Giveaway!!!